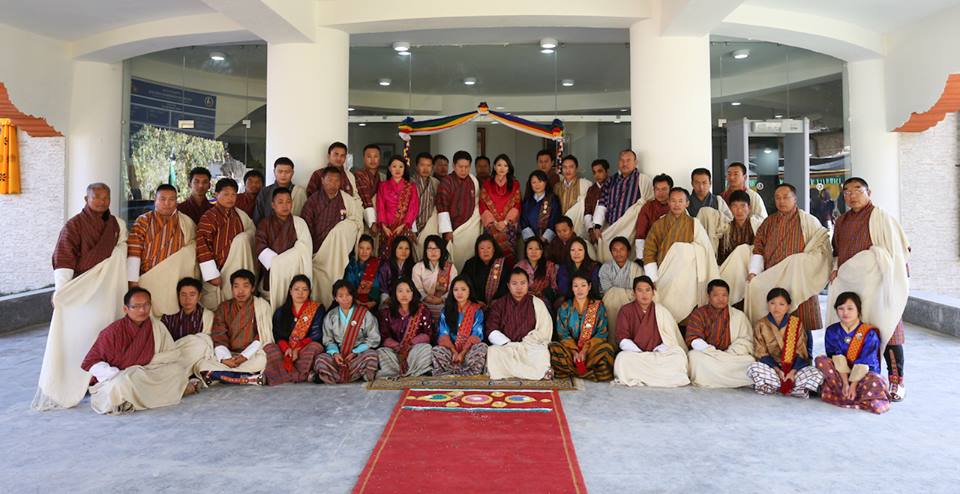 It is with the greatest pride and honor that the ECB family received Her Majesty The Gyaltsuen for the sacred inauguration of the Democracy House today, the 25th of November 2015.

The Democracy House is dedicated to the 60th Birth Anniversary of the Father of Bhutanese Democracy, His Majesty the Fourth Druk Gyalpo.
The Democracy House, standing as the physical symbol of democratic Bhutan, offers a visage of a harmonious blend of the traditional and modern architectural styles and materials situated in Kawangjangsa, Thimphu and constructed with the financial support of the Government of India. It will house the head office of the Election Commission of Bhutan.
The floral design of the roof and the "D" shape of the edifice represent the waxing moon symbolizing the maturing of democracy and the steady trajectory of the Nation's growth under the Democratic Constitutional Monarchy. The free flowing form with no sharp edges, and the green and accessibility design features represent the flawlessness and inclusiveness of the path of democracy – enshrined in the Constitution as Envisioned by our Beloved and Visionary Monarchs. The Democracy House ensures adequate, open and conducive space inspiring confidence and offering free access and movement for all.
The unique form of the structure with the gently curved driveway inviting all to its folds lend dignity and a distinctive character exuding a sense of stability and timelessness. The diverging radius of the building, radiating towards other edifices in the proximate environ, elevates the Democracy House as a beacon of eternally abiding democratic principles and practices in the land of the Palden Drukpa.
The consecration was presided over by His Eminence the Leytshog Lopen and attended by the Minister of Economic Affairs, guest, Dignitaries and Senior Officials.
The programme included, besides the Consecration Soongchhoe, an exhibition on Biometric Polling Process, Postal Ballot Process, Maps of Dzongkhag Thromdes, Dzongkhag Yenlag Thromdes and affected Gewogs and Chiwogs as well as a Photo Exhibition.
ECB Media Unit
Election Commission of Bhutan