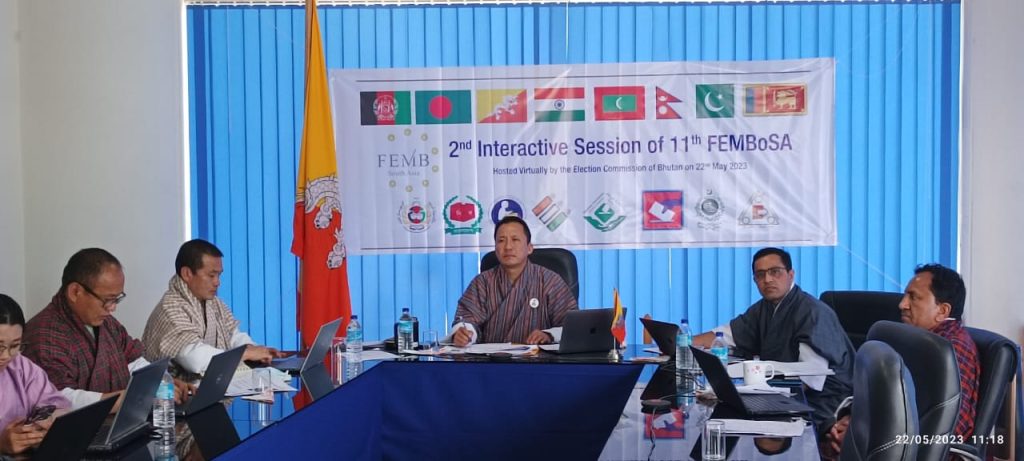 News Release
The Election Commission of Bhutan (ECB) in its capacity as the current chair of the 11th Forum of Election Management Bodies of South Asia (FEMBoSA), successfully conducted the Second Interactive Session on 22nd May, 2023.
The theme of the 2nd Interactive Session was, "Managing Elections during the COVID-19 Pandemic: Country-specific Experience & Way Forward". The session was attended by participants from the Election Management Bodies (EMB) of Bangladesh, Bhutan, India, Maldives, Nepal and Sri Lanka.
During the session, the participants presented their country papers on their country-specific experiences, highlighting the challenges faced and the measures adopted and implemented while conducting elections amid the COVID-19 Pandemic, ensuring safety of the voters and the community. The interactive session serves as an important platform for exchanging ideas, knowledge, and best practices among the participating countries and further strengthening collaboration among the EMBs of the region.
The Election Commission of Bhutan (ECB) remains committed to promoting cooperation and collaboration among election management bodies in the South Asian region.
The 1st Interactive Session of the 11th FEMBoSA was facilitated by Bhutan on 26th April, 2022.