The Election Commission of Bhutan (ECB) is pleased to hereby declare, as required under Section 457 of the Election Act of the Kingdom of Bhutan, 2008, the election results of the 8 affected Gewogs for the post of Gup of Chapcha Gewog under Chhukha Dzongkhag, Gup of Dangchhu and Nyishog Gewogs under Wangdue Phodrang Dzongkhag, Gup of Patshaling Gewog under Tsirang Dzongkhag, Gup of Guma Gewog and Tshogpa of Changyul_Loongsilgang_Tashijong chiwog under Punakha Dzongkhag, Gup of Korphu Gewog under Trongsa Dzongkhag, Gup of Soe Gewog under Thimphu Dzongkhag and Gup of Lunana Gewog under Gasa Dzongkhag at the elections held on 6th January, 2022.
A total of 21 candidates contested in the 8 affected Gewogs for the post of 8 Gups and one Tshogpa. A total of 9 (8 male and 1 female) have been elected successfully.
The details of the candidates who have been successfully elected as Gups and Gewog Tshogde Tshogpa are as follows: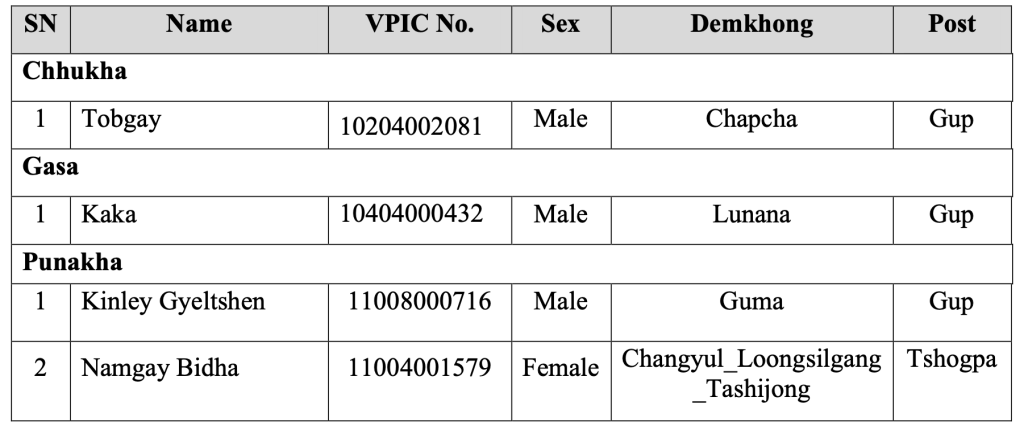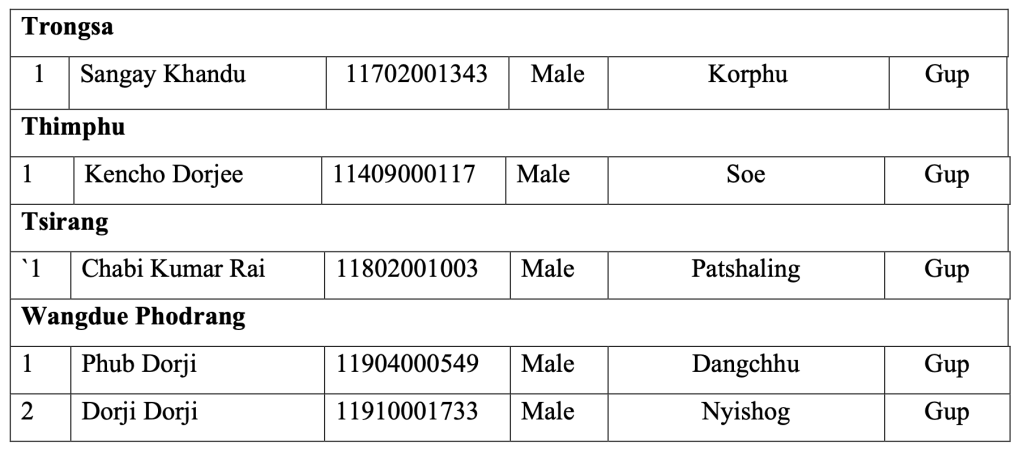 The registered voters and overall voter turnout information of the 8 affected gewogs in 7 Dzongkhags are as follows:
a) Totalregisteredvoters=11,884(5,544male&6,340female)
b) Total number of votes cast = 8,650 (3,923 male & 4,727 female)
i. EVM votes =6,208 (2,758 male & 3,450 female) ii. Postal votes = 2,442 (1,165 male & 1,277 female)
c) Voter turnout = 72.79%
The details of the results are available on the Election Commission's web page:
https://results.ecb.bt/public/results/dp2021
Upon issuance of this Notification, the Local Governments in the concerned Gewogs shall be deemed to have been duly constituted under Section 458 of the Election Act of the Kingdom of Bhutan, 2008.
The general public and all stakeholders may note that the Election Petition Period of 10 working days for this Local Government elections starts from today and will end at 5 p.m. of 20th January, 2022.
Issued on the Fifth Day of the Twelfth Month of the Female Iron-Ox Year, corresponding to 7th January, 2022.